How to Gain Executive Buy-in for ITSM
Technology is critical for improving employee productivity and organizational efficiency, but getting new technology into the hands of those who need it most often takes time—a long time.

The technology buying process can be complicated and unwieldy, filled with short- and long-term budget considerations and several stakeholders across different business units who must weigh in.

As an IT leader, you will have different concerns and questions than your company's CEO, who is focused on how new technology will help your company achieve its larger, overarching strategic goals and improve its overall performance. Finance and legal teams will have different questions and concerns and will be laser-focused on costs, while procurement teams may be more concerned with whether your company is getting the right product at the right price and how the solution will be implemented across the enterprise.

On the way to a technology buying decision, you must navigate all these different, often competing, priorities. Research indicates the number of stakeholders involved in technology purchasing decisions within organizations has grown from an average of 16 people in 2017 to 21 people in 2019.
The number of stakeholders involved in technology purchasing decisions within organizations has grown from an average of 16 people in 2017 to 21 people in 2019
And when 21 people have to come to a consensus about anything, it can take several months or even years for a company to implement new technology and begin to derive value from it.

78% of respondents said their latest technology purchase took longer than they expected
Being a Champion for Best-in-Class Technology
Today, the technology buying process is marked by inertia. One Gartner study found that 97 percent of technology buyers repeatedly revise their business case, and 90 percent repeatedly make changes to their vendor shortlist. The challenge is that key stakeholders within your company need to do extensive research and likely feel they are missing key information to make the best decision, which means it's important to
clearly communicate why this change is necessary,
how it will help your company outperform competitors,
which employee and customer experiences will improve,
what it will cost, and
how your company can successfully implement these new resources and solutions.
To effectively address all these concerns, you need to become chief business liaison, chief sales officer, and chief communicator to guide key influencers within your company toward a common purpose and accelerate the technology buying cycle. It's a monumental challenge that can be overwhelming for even the most skilled and business savvy employee.
Fortunately, there's an effective way to gain executive buy-in and budget—to secure that all-important approval and funding from your organizational decision-makers. By leading with business outcomes, you'll instantly make a stronger business case to justify the time and financial investment your business must make. You can also generate a sense of urgency to reduce the inaction and uncertainty that often lengthens the technology buying process.
Check out the
Executive Summary and other supporting assets
Step 1: Benchmark Where You Are Right Now
To be competitive, organizations need to transform into data-centric, digitally-driven businesses. Unfortunately, their internal IT processes aren't always equipped to meet the digital demands of customers, business partners, or even employees.
Operational silos, limited cross-functional collaboration, and a lack of visibility into data across the enterprise often lead to inefficiencies that keep organizations from performing at their peak. According to a 2019 Gartner study, 70 percent of IT roles have no direct contact with the frontline, and 94 percent of IT staff have a process-centric, risk-averse, or siloed mindset.
If your organization is facing this challenge, a modern IT service management (ITSM) solution can help your company transform from the inside out. ITSM solutions streamline your IT service desk processes, including service requests, incident management, and workflows. An enterprise service management (ESM) solution provides the same capabilities for internal business functions such as HR, marketing, legal, finance, and more.
As an IT leader, these solutions can help your team better prepare your organization for a changing landscape that includes the rapid adoption of remote work, increased demand for omnichannel customer experiences, and the need for automated processes that drive a better employee experience.
However, to build buy-in and gain budget, you need to make a compelling argument and prove the benefits and business case for making the investment. This effort must begin by benchmarking your service management practice. To do that:
Determine the cost of doing nothing: what happens if you stick with your legacy systems and processes and don't adopt a new ITSM solution? In this step, you'll need to quantify the costs of inaction, including modeling out potential system admin and development staff hours, existing software license and maintenance costs, and eventual price hikes you may have to bear.


Assess your IT maturity level: to understand where you're going, you need to have a clear picture of where you've been. Before you make the case for a new ITSM solution, it's important to assess your current workflows, processes, and future business needs.


Find the right approach for your business: It's also important to understand the benefits and business outcome you're trying to achieve by adopting a new ITSM solution, such as improved operational efficiency, reduced staff churn, streamlined compliance, faster issue resolution, business expansion, and evidence-based decision-making.
Once you've established these anchors, you'll be able to determine what's working and what's not—and what, specifically, you need in your next ITSM solution.
Find out how to benchmark your service management practice
and discover how to quantify and articulate issues with the status quo, assess your service management maturity, and identify ITSM best practices.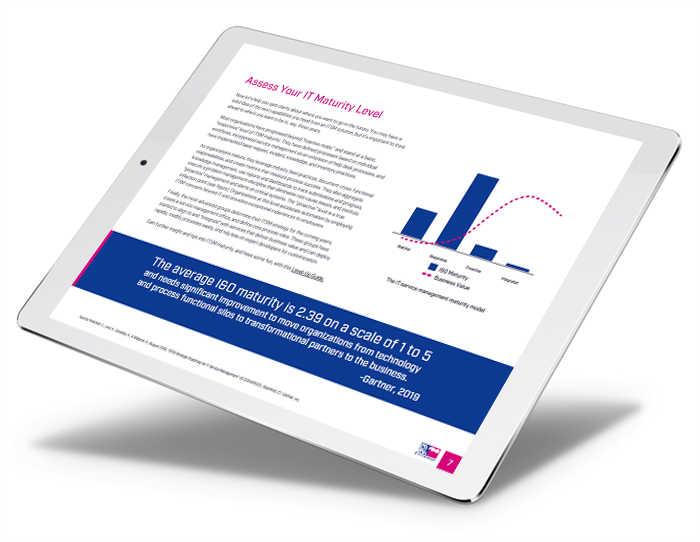 Step 2: Determine What You Need in an ITSM Solution
With these needs outlined, the next step is to understand the difference between fundamental, advanced, and innovative capabilities and, from there, determine what resources, specifically, your organization wants and needs from its enterprise management solution.
Fundamental capabilities: with these capabilities, you can automate service requests and repetitive tasks, speed time to resolution for incidents, reduce the number of calls to your help desk, more easily share information across the enterprise, and create a single source of truth for all your ITSM assets.


Advanced capabilities: advanced capabilities include problem and event management and real-time network monitoring to reduce the likelihood of service disruptions before they happen.


Innovative capabilities: these sophisticated IT capabilities enable you to customize workflows, connect workflows across the enterprise, integrate with third-party tools, and handle omnichannel service requests via phone, email, chat, and walk-up kiosks.
Once you understand the capabilities your organization needs and each vendor's offerings, you can leverage several different sources of information to compare vendors.
It's now easier to
make sense of your ITSM options
with an analytic methodology to compare and rate vendor offerings, break down capability considerations, and dive into peer reviews like a pro.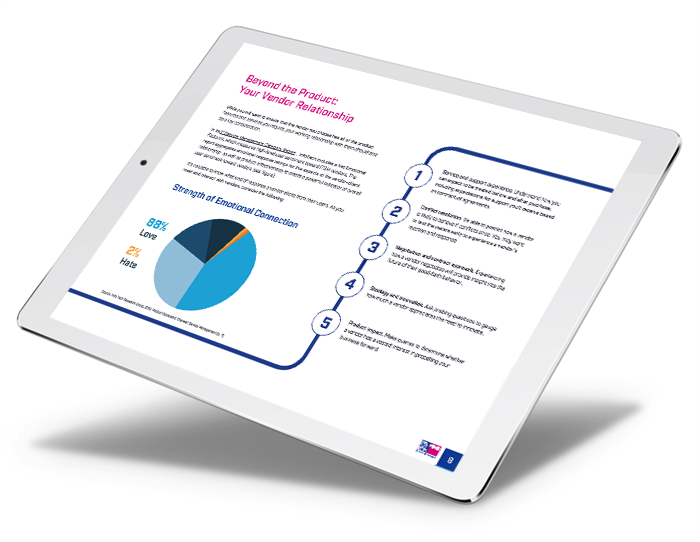 Step 3: Articulate and Share the Business Impact
Armed with a clear view of the landscape, the next step is forming a connection between key stakeholders and your ITSM solution—and they care about the positive short-term and long-term business impact of your proposed technology.
With the right approach, you could be in a position to make this compelling argument. You just need to figure out how to articulate the business impact and calculate the financials of a new ITSM solution. Imagine how powerful it would be to say:
"I can save our company $1.9 million in the next three years with this $270,000 investment. We'll also break even in just seven months."
Without question, those decision-makers would lean in—and take action.
To begin, you must understand your audience and their concerns. Service desk staff, IT leadership, and executives in other business units each will have a different perspective on your proposal. Service desk staff will be more concerned with the impact on their operations and how a new service management solution will help or hinder the work of service agents. IT leadership will be concerned with performance improvements and positioning IT as an effective partner to the business. Executives, especially your CEO, will be concerned with business outcomes and producing operational efficiencies, benefits and cost savings.
To make a persuasive argument, quantify service desk improvements, determine the overall effect on IT performance, find alignment with a key strategic initiative, connect to a business outcome, and develop key metrics within each of these categories that will most resonate with these different audiences.
You can achieve this by looking at your current operational metrics and working with potential vendors during the RFP process to identify and estimate the operational improvements possible with their proposed solution. You also can use industry benchmark data from sources like the American Productivity & Quality Center and Pink Elephant to help with this process.
Once you have all this data, use it to make the case for how a new service management solution can help your organization achieve important business outcomes, such as increasing revenue, decreasing costs, or better managing risk. For example, you can make a data-driven argument that a new ITSM solution will reduce IT staff time by 25 percent. This savings, in turn, will give your team more time to focus on product innovations that could help achieve your company's goal to increase revenue by 10 percent.
Connecting this technology investment to strategic objectives and business outcomes will allow you to clearly and powerfully articulate the business impact of a new service management solution and bolster your case that these solutions are a worthwhile investment.
Next up: Conduct a financial analysis to support your case for the business value of a new ITSM solution.
This analysis should include a comparison of key costs, benefits, and productivity differences between your current solution and a new ITSM solution. Look at your software licensing model, operational costs, and incident management metrics to make this comparison. For example, if your current solution operates under a pay-per-user model where only specific business users can access the software, but a new solution operates under a concurrent licensing model with a maximum threshold for the number of users, you can better assess which approach will provide the most cost savings based on your organization's needs.
You also can quantify productivity improvements by looking at your current service desk metrics and comparing the capabilities each solution offers. If a new solution supports customer self-service tools or an analytics dashboard and real-time reporting, for example, this can improve your team's efficiency and save time that you could reinvest into mission-critical business tasks that more closely align with key business goals.
Once you've compiled all the relevant data, you can calculate key financial metrics such as total cost of ownership (TCO), the payback period, and return on investment (ROI) of a new service management solution, and give the most important stakeholders in your organization the necessary information to assess the proposed solution and whether it is the right fit for your company.
It's clear numbers speak louder than words. So,
establish the business impact
of the right ITSM solution by creating compelling connections between IT initiatives and business outcomes with TCO, ROI, and payback calculations.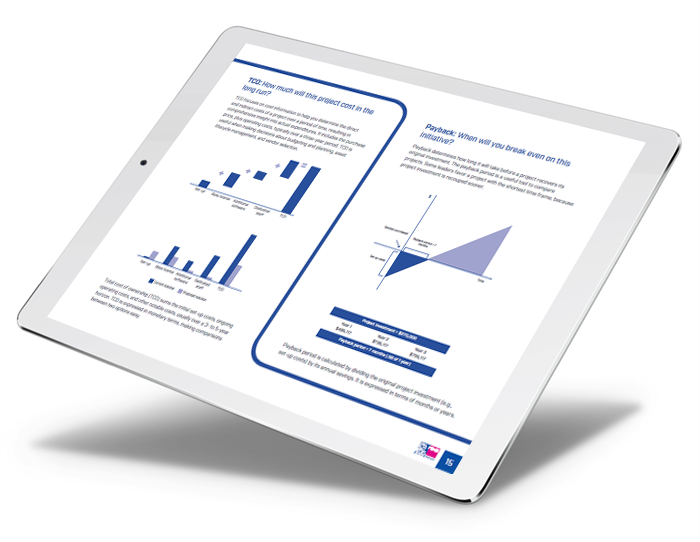 Step 4: Activate Decision-Makers—and Get to a "Yes"
The final step? Take all of this data and targeted view of stakeholder wants and needs to gain organizational support...and get to a "Yes." To do this:
Prove you have a plan: Before meeting with stakeholders, you need to pull together your argument into a concise, compelling, and impactful business case presentation.


Structure the approval process: There's rarely one decision-maker involved in the tech decision-making process. To that end, be prepared to secure approvals from everyone from the CEO and CIO to HR leaders, service desk administrators, and the chief information security office (CISO), among others.


Prepare for stakeholder conversations: Your business case presentation should best connect stakeholder concerns to a specific business outcome and prepare a compelling argument for any potential objections they may raise. In advance of these conversations, also formulate your specific "ask" or request for each stakeholder. This way, you can end the conversation with an actionable next step.


Move forward from "Yes." Don't just be prepared for objections—be prepared for what happens if (and when) you get a "yes." Ensure you understand the purchasing and procurement processes and follow your organization's process for submitting a purchase order, reviews, budget approvals, contract management, delivery, and final invoice approval.
As you're moving forward, be sure you're communicating with stakeholders and building momentum and excitement along the way. Then, post-implementation, be sure to gather success stories and metrics to showcase how you've moved your organization one step closer to delivering the best customer and employee experience possible—and building a lasting competitive advantage.
To
gain the widespread support and executive buy-in
you need, bring decision-makers to the table and help them understand the benefits that will come to their respective function as a result of a new ITSM solution.
Together, these steps will help you better support and advocate for your tech solution—to truly champion a new ITSM from ideation to realization. Our eBook series, Be a Service Management Champion, will take you through step-by-step as you define your ITSM goals, identify your objectives, and champion your vision into reality.
Learn more
about how to build a business case for your IT project.