Agent augmentation can reduce call-handling time by an average of
3.5 MINUTES
Industry best-practice ITIL processes ready to go in a single integrated platform
When employees get their issues resolved right first time, and with minimum wait time, they can get back to work immediately rather than getting stuck waiting for service. Call-handling time is reduced significantly, reducing the the cost per call.
Servicely boosts productivity with a ready to use ITSM solution delivered out-the-box with a pre-configured ITIL Service Desk. Our embedded AI functionality enables Servicely to automate self-service requests and augmented service agents with next best action to deliver industry leading ITSM automation. ITIL processes work to align departments – IT and business – ensuring they act as one seamless and productive whole. A single system of record gives service agents all the information they need from one destination to resolve issues faster and restore service in record time. No more swivel chair.
ITIL PROCESSES WORK TO ALIGN DEPARTMENTS – IT AND BUSINESS
ENSURING THEY ACT AS ONE SEAMLESS AND PRODUCTIVE WHOLE.
Service agent augmentation kicks in where other systems stop
The platform not only captures all the valuable data relating to actions that service agents through to employees perform daily, but also learns from these actions while adding insights to the knowledge bank that is then used to intelligently predict and guide the users on future actions. This means faster resolution with issues being solved in minutes rather than days, better service experiences for all, and lower risk. We've proven that agent augmentation can reduce call-handling time substantially – an average of 3.5 minutes a call.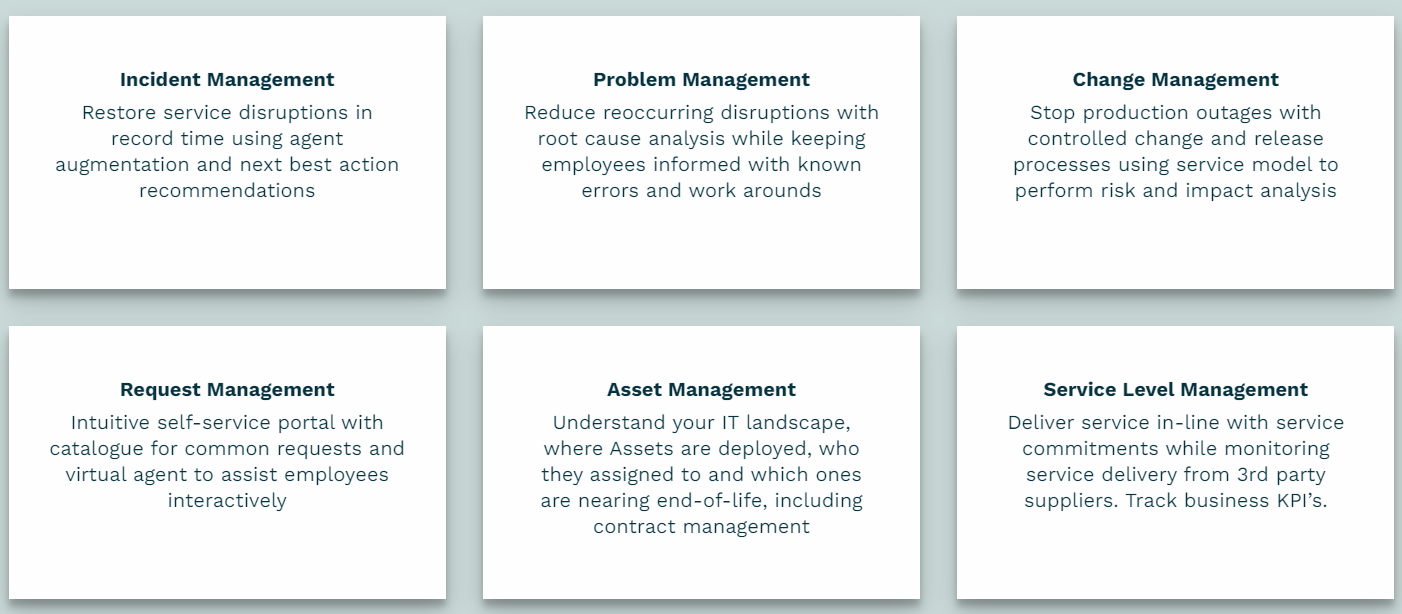 Under the hood
Pre-configured industry best-practice ITIL processes mean faster configuration and rapid deployment and adoption. Administrators and business users can automate any end-to-end process, enhancing business value and lowering operational costs. End-to-end visibility from a single portal offers enhanced customer experiences; active tracking and monitoring of equipment and employee time; an improved view of business functions; and better data analysis and planning so organisations can jump on opportunities in real time. Servicely enables organisations to adapt and grow at the speed of business.