The role of Workforce Management in building future-ready support
2 years into the pandemic, the business landscape has changed with the speed of light. While 74% of professionals expect remote work to become standard, managing a distributed workforce has its unique challenges.

Overseeing disjointed teams and handling resource crunch has led to fragmented data, frustrated agents, and poor customer experience. This has made companies ask themselves whether they are ready for the future of work?

With ongoing digital transformation and remote work being widely accepted, empowering agents with the right tech stack and investing in an integrated Workforce Management (WFM) solution helps contribute towards increasing productivity, reducing churn, and in turn delivering delightful CX.

Through this blog, we'll see how WFM is the missing puzzle piece for the success of a hybrid work model.
What is Workforce Management and why do you need it?
An effective Workforce Management (WFM) solution encompasses all that you need to efficiently manage your workload and maintain a cost-effective workforce. This includes strategies, tools, and technologies that businesses can implement to ensure that all resources are in the right place at the right time and thereby enhancing employee productivity. The main goal here for businesses is to optimize the deployment of their employees, who are one of the most costly resources. Studies show that businesses can save 25% of overall support costs and bring down their manual effort by almost half with the implementation of a WFM solution.

WFM includes all the procedures for staffing, scheduling, forecasting customer demand, and adjusting to staffing needs in real-time. It automates time tracking, leave management, and ensures everything is in accordance with regional labor laws and reporting requirements. Doing all this manually each day across multiple channels is tedious, time-consuming, and expensive. It comes as no surprise that 70% of typical customer service costs are people-related. This stresses the importance of having a well-integrated WFM solution that goes beyond the basic automation to aspects such as self-service features and real-time analytics.

The benefits are multifold and extend all the way from your customer support teams to the overarching business goals. Let's take a look at the challenges it addresses and how: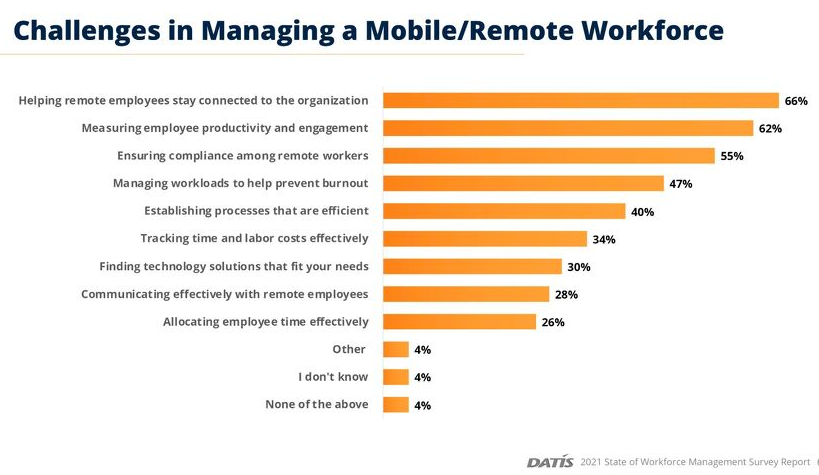 1. Reduce manual effort with streamlined and automated processes
Legacy resource management involves countless spreadsheets and endless hours of manual labor. Not only is it time-consuming and exhausting, but is also ineffective in accurately predicting workforce demand and creating schedules to match it. They are also more prone to error and can lead to data discrepancy. By harnessing the power of AI, IoT, and optimization, the WFM tool helps businesses switch from manual planning methods to automation and take well-informed decisions in terms of staffing.
2. Organize and optimize shift schedules to stay cost-effective
Hybrid work comes with the complications of scheduling and staffing teams spread across countries, time zones, and shifts. As a next-gen support solution, Workforce Management helps identify agent availability across all channels and empowers agents by allocating time and work evenly. They are also instrumental in bringing about flex scheduling, agent self-service, mobility, real-time adherence, and intra-day management. Supervisors and managers can oversee, engage, and motivate their teams regardless of where they are located. This has a direct bearing on the support costs and gives businesses more control over them.
3. Accurately forecast future workload with real-time analytics
Having strong and powerful analytics in your arsenal goes a long way by forecasting future trends, envisioning possible situations & outcomes, and gaining actionable insights. This helps businesses make data-driven decisions, analyze performances, and update processes for continuous improvement which indirectly increases the ROI. Besides forecasting workloads, analytics also help measure schedule efficiency, operational effectiveness, and employee satisfaction.
4. Enable self-service for agents and supervisors
It is critical that businesses actively involve their employees in the planning and operational process. Giving agents visibility on their shifts and some control over their work hours results in high agent engagement, creates a win-win culture, and reduces turnover. Self-service capabilities such as team calendars, time-offs, shift-swaps, and availability preferences help reduce agent burnout and instill a sense of responsibility and accountability. Although, for this to be successful it requires efficient communication between agents, supervisors, and the management.
Decoding the Workforce Management (WFM) process
Workforce management is the solution for many of the problems faced by customer support teams. But using it in silos does not do any justice. Especially when there is a need for customer support and engagement across channels. This is where having strategic and deeply integrated platforms comes into play meeting the requirements of modern, digital enterprises. injixo's smart and comprehensive workforce management solution works seamlessly with Freshdesk's collaborative omnichannel platform to enhance both customer and employee experience. Businesses can leverage the joint capabilities of this integration to optimize operations, drive agent productivity, and boost customer satisfaction.
But first, let's take a step back and understand how a Workforce Management solution, such as injixo, works. It is a continuous and constant process often characterized as the WFM (Workforce Management) cycle and is made up of 5 components.
Forecasting – Identify and assess future workload across channels, based on historical and real-time data collected from Freshdesk
Staffing Calculation – Predict the long-term and short-term resourcing needs of your agents and incorporate variables like seasonality, channels, skills, and more. Also, determine the number of Freshdesk agents you will need to handle the forecast contacts based on skill
Scheduling – Create agent schedules/ rosters to effectively match the forecasted demand hence enabling smooth day-to-day operations. Assign agents to shifts based on workload so that supply meets the demand
Real-Time Management – At times there can be unexpected spikes in volume or deviations where being able to quickly identify and resolve them is of utmost importance. React quickly, take swift and effective corrective action to defend your KPIs
Agent Engagement – Give agents visibility and control of their schedules, and enable self-service for time-offs and shift swaps
Reporting & Analysis – Analyze WFM performance and update processes for continuous improvement

Revolutionize your CX with injixo + Freshdesk

injixo's Workforce Management (WFM) enables organizations to optimize the balance between customers, employees, and costs – simultaneously improving the outcome for each. When you bring the power of injixo into Freshdesk, it enables your high-performance support teams to do more. This robust integration helps support teams manage their workforce effectively in a single powerful platform through features such as:
Accurate forecasting and staffing
Always have the right number of employees doing the right thing at the right time. Based on historical data collected by Freshdesk, identify and assess future workload across channels. This helps determine the number of agents you will need to handle the forecasted contacts based on skill.
Efficient skill-based scheduling
Map support agents with the right skills to the corresponding shifts and do away with under- or over-staffing. Powerful optimization algorithms generate adaptable and skill-based agent schedules that help you keep up with the demands of a modern workforce.
Agent engagement through self-service
Engage agents in the planning process by giving them visibility and control of their working times that are optimized around customer demands. Smart self-service capabilities help agents swap shifts, notify availability, and take time offs.
Impact-driven reporting & analysis
Take data-dependent decisions to continuously update and improve business processes by analyzing performances at the end of every Workforce Management cycle. This is enabled by impactful reports and dashboards that help measure and track KPIs.
Revolutionize your CX with injixo + Freshdesk
Get the best of both worlds Today there is a need for a CX strategy that incorporates WFM into each stage. Its impact cannot be underestimated as it helps to have a more predictable & well-managed workload, efficient skill-based scheduling, transparent agent management, and higher ROI. The bottom line is – happy agents result in happier customers. Step up your game and achieve all this and more by combining the state-of-the-art features of both these platforms.